Green tea and resveratrol reduce Alzheimer's plaques
Abstract: Two common compounds, green tea catechins and resveratrol, a compound found in red wine, reduce the formation of amyloid deposits in brain tissue associated with Alzheimer's disease.
Source: Tufts University
Alzheimer's disease is the sixth leading cause of death in the United States, affecting more than 6 million Americans, and its incidence is expected to increase in the coming decades.
The cause of the disease in its most common form, which is not genetically based, is not well understood. This makes treatment difficult, but progress is being made. Using a 3D model of living human brain cells, Tufts researchers showed earlier this year that the herpes simplex virus can induce plaques in the brain associated with Alzheimer's disease.
Now, Tufts researchers are working to understand what might slow the progression of the disease. In the laboratory, they tested 21 different compounds in nerve cells suffering from Alzheimer's disease, measuring the effect of the compounds on the growth of sticky beta amyloid deposits. These plaques develop in the brains of people with Alzheimer's disease.
Researchers have found that two common compounds — green tea catechins and resveratrol, found in red wine and other foods — reduce the buildup of plaque in these neural cells. And they did it with little to no side effects.
The researchers published their findings in a journal Biology and medicine of free radicals.
Some of the 21 compounds tested reduced disease progression by acting as antiviral agents — slowing Alzheimer's disease caused by the herpes virus.
But finding a compound "that could reduce plaques regardless of the viral component would be ideal, because it would show that regardless of the cause of Alzheimer's disease, you could still see some kind of improvement," says Dana Cairns, GBS12. Cairns is a research associate in the Kaplan Lab at the Faculty of Engineering and led the research.
Initial screening was done in simpler models, and compounds that had a positive effect were then tested in a 3D model of neural tissue. This model was created using a non-reactive silk sponge seeded with human skin cells that are genetically reprogrammed into progeny neural stem cells.
These cells grow and populate the sponge, "allowing the formation of a 3D network of neurons similar to what you would see in the human brain," Cairns says.
An initial screening found five compounds to have "really strong prevention of these plaques," she says. In addition to compounds from green tea and resveratrol, they discovered curcumin from turmeric, the diabetes drug metformin, and a compound called citicoline that prevents plaque formation and has no antiviral activity.
"We were hoping to find compounds that would be harmless and show some level of efficacy," she said. Green tea compounds and resveratrol met that standard.
"We've been lucky that some of them have shown quite strong performance," Cairns said.
"In the case of these compounds that passed the test, they had almost no visible deposits after about a week."
Green tea catechins—molecules in tea leaves that have antioxidant effects—have been investigated as a potential cancer treatment, and resveratrol has been tested for antiaging properties.
Cairns cautioned that seeing effects in the lab "doesn't always translate to what you see in the patient." Some compounds do not cross the blood-brain barrier, which would be important in the case of Alzheimer's disease, and some have low bioavailability, meaning they are not easily absorbed into the body or bloodstream.
Still, the discovery is significant because there is no cure for Alzheimer's disease or a way to prevent its progression, except for a few potential drugs developed by pharmaceutical companies that are still being tested, Cairns says.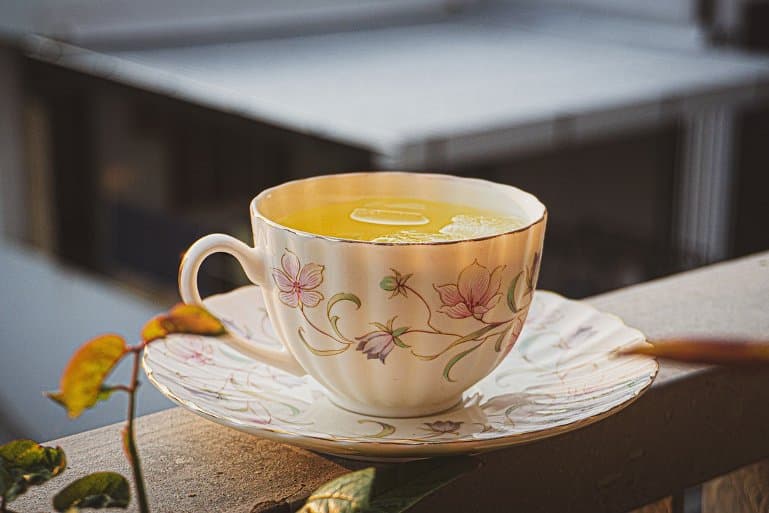 Compounds like these two that show some efficacy and are known to be safe and readily available can be taken as a supplement or consumed as part of a diet, she adds.
"For example, natural sources of resveratrol include red wine, certain fruits such as grapes, blueberries and cranberries, peanuts, pistachios and cocoa," says Cairns.
"While it's encouraging to be able to take steps like these to potentially prevent neurodegeneration in the future, it's also important to consult with your doctor before making any major changes to your diet."
Looking ahead, a potential area of ​​research for researchers and pharmaceutical companies would be to take advantage of the beneficial properties of these compounds and "try to improve them to make them more bioavailable or to penetrate the blood-brain barrier a little better," Cairns says.
In addition to Cairns, other co-authors of the journal article are Isabella A. Silveira, E21, and Adam Mullis, a postdoctoral fellow at Tufts, along with David Kaplan, the Stern Family Professor of Engineering and chair of the Department of Biomedical Engineering.
About this Alzheimer's research news
Author: Mike Silver
Source: Tufts University
Contact: Mike Silver – Tufts University
Picture: The image is in the public domain
Original research: Closed access.
"Screening of neuroprotective compounds in cellular and 3D tissue models of herpes-induced Alzheimer's disease" by Cairns et al. Biology and medicine of free radicals
---
Abstract
Screening of neuroprotective compounds in cellular and 3D tissue models of herpes-induced Alzheimer's disease
Alzheimer's disease (AD) is a neurodegenerative disorder that can cause cognitive decline that can be life-changing and debilitating. The etiology of AD is poorly understood and there are no therapeutics that would modify the disease.
Here, we describe the use of 2D and 3D tissue culture models of herpesvirus-induced AD, which recapitulate disease features such as plaque formation, gliosis, neuroinflammation, and impaired neuronal signaling, to screen a panel of 21 drugs, dietary supplements, and nutraceuticals with purported neuroprotective benefits.
This trial identified green tea catechins and resveratrol as having potent anti-plaque properties, functional neuroprotective benefits, and minimal neurotoxicity, providing support for their further investigation as AD prevention and therapy.
Two other candidates, citicoline and metformin, reduced plaque formation and were minimally toxic, but did not protect against virus-induced damage to neuronal signaling.
This study establishes a simple platform for the rapid screening and characterization of AD compounds of interest in 2D and 3D human cortical tissue models representing physiologically relevant features of the disease.
title_words_as_hashtags]